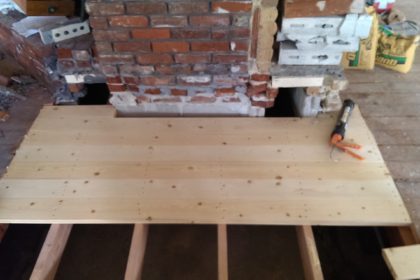 Phew, its been a long couple of weeks on this house, but we are officially getting over the hump and setting this home back on its way to being completed. During the week, the plumbers have just about wrapped up their work, the HVAC installers are done roughing in, the electrical work in nearly complete, and we have a day or so to wrap up the floor framing work.
We are waiting on 3 large beams that will be used as strongbacks (strongbacks give support and rigidity to a series of structural members). In our case, we had a local architect design a set of beams that would provide support for the ceiling and roof in the kitchen where we removed a load bearing wall. We are expecting the 1.75″x16″ LVL on Tuesday of this week. It will be a bit of a bugger to get them up in the ceiling, but the ceiling and roof structure will be far stronger than the original 2×12 system the home was built with for strong backs.
Check out the video below.