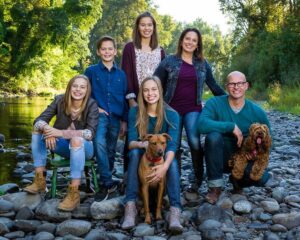 It is important that we get to know one another along this journey.  We are Bspoke Homes–A locally owned family run business with strong roots and ties in the community.  We are passionate about our families and building communities and homes for the future.  Our interests generally revolve around outdoor activities with a good book never far from our hands.
Our roots in construction started in a small farming town outside of Boise, ID where our single most important value was instilled–Work Ethic.  Working in the fields starting at the age of 13 detassling corn 7 days a week for 12+ hours per day to help our family and ensure we had clothes for school was how we spent our summers.  The long summers taught us that a hard days work was given a rate of return.  Understanding the value of ones financial labors allowed us to make thoughtful financial decisions throughout our life not only personally but for each of our clients.
From those early days in the fields, we moved onto college summer employment learning various trades along the way that have put a skill into our hands and minds that we use to guide our every move during the facilitation of your project.  After college, the corporate world called us to work as engineers for several years.  Finding a disconnect and lack of real meaninful work, we took the leap of faith to begin our construction entrepreneurial endeavors in 2001.
Since 2001, we have learned a great deal.  As a result of our willingness to learn and grow we have become an asset to the industry.  It is no accident that our company has always survived on referrals.  We are the big unknown company and in some ways we like that.  We love that our clients appreciate the value we have given to them and their homes.  The genuine humility we take on with each and every name that is passed our way for consideration of a future project is one way we honor those relationships.  It is a big deal when we are referred by a client as we believe we are a direct extension of our clients values and expectations when they step out and hand a friend, family member, or colleague our contact information.
Bspoke Homes is Fine Fit & Finish, but we are people just like you and through work ethic and following the Golden Rule, we look forward to serving you in your endeavors.
….working with Bspoke Homes and Kole Mogel was a wonderful experience…..We love our home!

JAMES AND JENNIFUR NEWHOUSE
uncompromising quality from our skilled craftsman
You shouldn't settle so we don't settle. Our team of artisans and craftsman are among the best in the business. As a result, your work will exceed your expectations the first time.
When dealing with true professionals in the industry, they take pride in your home. As you would expect in a fine garment, the attention to detail will be apparent throughout your project. Whether the finished edge of a stone countertop or the final plant earthed in an exterior renovation, your project will be one that not only adds value and usability to your home, but one that you can be proud of.
you are anything but "standard," so we aren't either
You are anything but "standard," so we aren't either.
Don't settle for standard when you have nearly limitless options. Regardless of whether you are doing a fiscally conservative project or a no financial limitations extravaganza, the selections of your finishes should be uniquely you.
We work directly with some of the top suppliers in the industry that house incredibly beautiful showrooms. Working with the expert consultants in the showroom along with our staff allows your dreams to transform into real world solutions that will fit your lifestyle.
Don't be afraid to explore
Over the years we have found our clients come from a diverse background with varying degrees of experience with home ownership, renovations, as well as investments. If you are a seasoned pro who confidently walks through the various residential construction processes with ease, we will give you budgets, our supply house contacts, and let you do your thing. If you get stuck, we are there to bridge any gaps.
On the other end of the spectrum from the pros are the rookies. If you are a rookie (it's okay!) we will be there every step of the way. We will give you broad boundaries in developing your design esthetic or determining the best investment strategies for you.  If and when you stray too far, our experience will bring you back into the fold keeping you on track saving time and money.
The bottom line is we are here for you in whatever capacity your desire.
the foundation of a stable business
While not the most exciting part of your project, the manner in which we conduct our business from the back office will give you incredible peace of mind.
We utilize extensive electronic communications to back up and reinforce face to face and phone conversations tracking changes as your project moves from conception to completion.
Our staff will provide a firm quotations, sound written contracts, and transference of all related notices and disclosures. We are fully licensed, bonded and insured to facilitate the services we offer.
your earth friendly project
Building Energy Star compliant homes since we began building drove our initial commitment to providing our clients with environmentally sound homes. Over the years, we have continued to build upon that commitment through conscientiously recycling demolition materials to donating good useable products for other homeowners to benefit from.
We can work with you and local trade partners to provide you with a project that is as "Green" as you are.
you can never have to much
With nearly 100 custom "1 off" homes under our belts over the past 20 years our portfolio spans a wide variety of construction projects including large country estates, subdivision customs, infill renovations, and various remodeling projects.
We have completely renovated homes inside and out spanning the late 1800's all the way to face lifts on modern day homes. With our broad and diverse experience, we completely focus on you and your project.