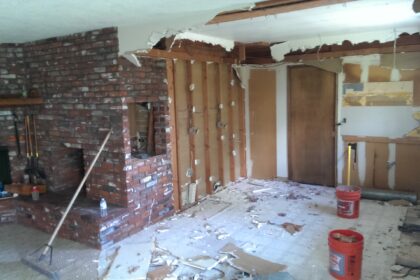 We decided to video document one of our projects under way. We are will be renovating a 1967 2405 square foot single level ranch that is located in Rock Creek in Portland Oregon. it should be a fun and entertaining project once we get through the demolition. For some reason, when people watch demolition on the DIY channels, they make it seem incredibly fun and gratifying.
As far as the fun goes, yes, it is fun for the first hour or so. After that, the sweat kicks in, the insulation starts falling, and you realize you are destroying the work that folks poured their hearts into many years ago. Of course, more often than not when a home is built with the current trends (like the pink, yellow, and blue bathroom fixutres in this house) of the day, more often than not in a short period of time, someone will be swinging a double jack, running a jack hammer, and most certainly pulling the trigger of a sawzall.
In the coming weeks, we will add more but in the mean time, watch the video and see what we are up too!