I have to tell you, last week was very productive in many ways.  First, we moved all of our projects forward.  Kitchen cabinets set at our project on Emerald Loop as well as the hardwood run throughout the project on 190th.  Here's what I really learned.
No matter how many times you have moved a fully loaded refrigerator, there is always the first time that it will go tragically wrong!
Let me go ahead and set this up for you.  We are doing a quick renovation on a rather large kitchen.  It is always my goal to make the process as smooth and simple for my clients as possible.  With that said, you can imagine emptying the refrigerator for 3 weeks is a bit of a challenge.  We typically just have our clients remove everything from the cabinets, but leave the refrigerator loaded up.  No big deal.  Right?
I'm uncertain if I have ever moved a heavier refrigerator in my entire life (other than Subzeros).  Let me set this up.
Refrigerator
Massive amount of food
Hand Truck
Taped Refrigerator Doors
Step out of House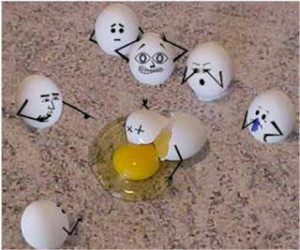 As the hand cart gently eased down the step, the food decided to slide inside the refrigerator.  No big deal.  Unfortunately, as the food slid, it moved rather violently which caused a chain of unfortunate events.  Refrigerator door swings open.  Food proceeds to fall from said refrigerator.  Weight of refrigerator becomes completely unstable.  Refrigerator flops off of handcart.
Crash, Bang, Boom!
It looked like a crime seen.  A bottle of hot sauce shattered along with last nights left over chicken and rice.  It was not pretty.  I couldn't get myself to take a picture of it for your viewing pleasure and/or heckling pleasure as the case may be.  After my clients daughter and friend got a good chuckle at my expense, I swept up the mess including only one cracked egg along with my pride and rolled on with the refrigerator and my day.
So, just in case you are wondering, it happens to us too!